June 7, 2019
The Frank Maher Classical Music Awards were established in 2001 and are sponsored by the Top Security Group to honour the late teacher at Castleknock College from 1959-1998.
Winner of 2018 Frank Maher Classical Award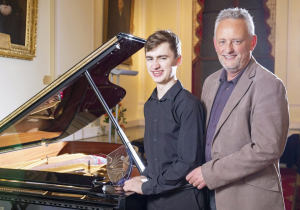 Kevin Jansson (18) a sixth-year student at Presentation Brothers College, Cork, won the Top Security Frank Maher Classical Music Awards in October 2018.   Top Security would like to congratulate Kevin on his fantastic achievement of being accepted into the Juilliard School in New York.  Kevin will use the bursary to assist with first year fees and accommodation.  Well done Kevin. Best wishes from Top Security!
The Awards aim is to promote musical life, assist cultural exchange and promote young and talented musicians. The Winner's bursary of €5,000 is one of the largest classical music awards in Ireland and has been a jewel in Ireland's classical cultural crown for many years. From the outset, exceptional and highly talented young musicians have performed each year to invited audiences in a bid to win this award.
Find out more about Frank Maher Classical Awards