October 11, 2019
The Awards were created in 2001 by Top Security chairman Emmet O'Rafferty to honour the memory of his late teacher, Fr Frank Maher, who taught music at Castleknock College in Dublin.  Emmet said "Congratulations to Michael Murphy on his achievement.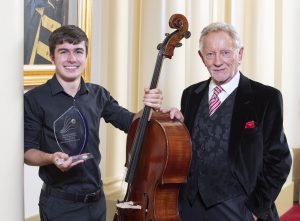 Michael Murphy (18) a sixth-year student at Presentation Brothers College, Cork, is the winner of the €5,000 top prize at the Top Security Frank Maher Classical Music Awards for 2019, Ireland's largest such competition for secondary schools. 
The Awards' aim is to showcase outstanding young musical talent in Ireland and are open to sixth year post-primary students of strings, woodwind, brass and piano. The €5,000 top prize must be used to attend a recognised place of tuition, a course of study in Ireland or abroad or on a purchase necessary for the development of their talent.
The five finalists each received a €300 bursary.  They were:
Maria Fay (17), St. Mary's College, Naas, Co. Kildare (french horn)
Michelle McCarthy (17), St. Angela's College, Cork (violin)
Eimear McDonagh (18), Mount Mercy College, Cork (harp)
Holly Nagle (17), Bruce College, Cork (flute)
Justin O'Hagan (17), Colaiste Ris, Dundalk, Co. Louth (piano)
The judging panel this year were Dr Kerry Houston, head of academic studies at DIT Conservatory of Music and Drama, classical pianist Veronica McSwiney and Brian O'Rourke, head of programming for the National Symphony Orchestra.